Top 5 Benefits of LASIK Eye Surgery
People with nearsightedness, farsightedness, or astigmatism often make good candidates for laser eye surgery. LASIK corrects your vision so you can see more clearly. While you may have heard of this procedure, you may not know all the benefits of LASIK.
What is LASIK Eye Surgery?
LASIK is a type of laser eye surgery. LASIK uses a laser to correct the shape of the cornea. This clear structure at the front of the eye helps focus light onto the retina. When light does not focus properly, you have a refractive error. Reshaping the cornea allows LASIK to adjust the angle of incoming light to give you clearer vision. Most people who have LASIK reduce or eliminate their need for glasses or contact lenses.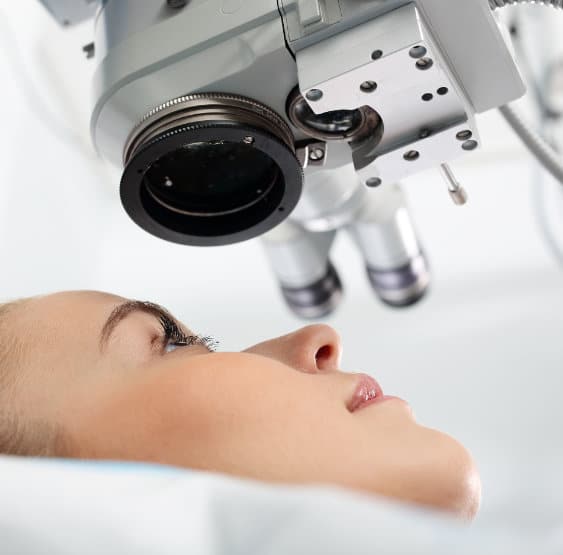 *Individual results may vary
How Does LASIK Eye Surgery Work?
After making sure you are comfortable, your eye surgeon will numb your eyes with drops to keep you from feeling any discomfort. A femtosecond laser uses pulses of energy to create a flap in the cornea's epithelium. Your eye surgeon then uses a computer-guided excimer laser that removes micro-thin layers of corneal tissue to achieve the correct shape for clearer vision.
Top Five Benefits of LASIK Eye Surgery
LASIK has become such a popular procedure for many reasons. These benefits help many people make the decision to get LASIK and improve their eyesight without the need for eyeglasses or contact lenses in most cases.
What is the Procedure Like?
LASIK is a painless procedure that may take as little as 15 minutes. The corneal reshaping only takes seconds per eye. Many people report after LASIK that it was much easier and more comfortable than they expected. You can go home after a short observation period.
How Soon Can I Go Back to Work?
Most people can see clearly after 24 to 72 hours and can return to work at this time. Effects like irritation and sensitivity can last a few days. LASIK only disrupts your daily life for a few days, making it easy to fit into the busiest schedules.
What Results Will I See?
Almost all LASIK patients will see improvements in their vision. Over 90% will no longer need glasses or contact lenses. You will notice improvements almost immediately after the procedure, but your vision may continue to stabilize and improve for a few weeks. You may still need lenses to read fine print depending upon your age.
How Long Does it Last?
LASIK permanently changes your cornea, and the results can last many years. People who have LASIK will still develop age-related vision changes. Most people over 40 will develop presbyopia, a condition caused by your natural lenses becoming rigid and less flexible. You may also develop cataracts or eye issues related to medical conditions.
How Safe is It?
LASIK is the most widely performed laser eye surgery. It has been extensively tested and FDA-approved for over twenty years. While no procedure is entirely risk-free, serious issues after LASIK are extremely rare. The most common long-term effect after LASIK is dry eye.
Request a Consultation
We'd love to help you get all the information you need in order to make the best choice for your eyes. Request a consultation today! Our staff is available and happy to answer your every question.
Am I a Good Candidate for LASIK Eye Surgery?
You may be a good candidate for LASIK if you meet these criteria:
A stable eyeglass or contact lens prescription
No issues with eye health
Healthy corneas
No history of chronic dry eye
A prescription within the range that LASIK can treat
Reasonable expectations
People with thin corneas or chronic dry eyes may be better candidates for a different procedure. Other types of laser eye surgery, such as SMILE and PRK, make excellent options for many people.
Take the Next Step and Enjoy Clearer Uncorrected Vision
To schedule your in-person LASIK laser eye surgery consultation, call Alabata Eye Center at (850) 331-3937. A referral is not necessary. Thank you for trusting our professional services.