How Long Does It Take To Recover From LASIK?
Have you been frustrated with blurry vision or the annoyance of corrective lenses? LASIK corrects refractive errors to give you clearer vision. This procedure uses lasers to adjust the angle of light entering the eye, so you see clearly with less need for glasses or contacts.
What is LASIK?
LASIK is a minimally invasive way to correct your vision with little downtime. LASIK eye surgery reshapes the cornea, the part of the eye that affects the angle of incoming light. Changing the shape of the cornea directs light to the retina at the correct angle for clear images. LASIK is the most well-known type of laser eye surgery. Dr. Alabata performs various laser vision correction procedures and will determine whether LASIK is the right choice for you.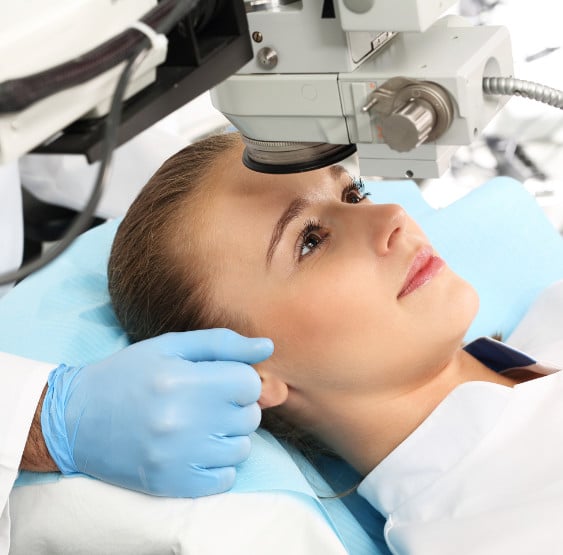 How Does LASIK Eye Surgery Work?
LASIK eye surgery begins with anesthetic eye drops. Dr. Alabata uses a femtosecond laser that uses high-speed pulses to create a flap in the cornea's outer layer. He will lift this thin flap away to provide access to the rest of the cornea. An excimer laser then removes microscopic layers of corneal tissue to achieve the correct shape. When repositioned, the corneal flap adheres immediately, and the edges will start to heal within 24 hours.
How Long Does it Take to Recover From LASIK?
You will need someone to drive you home from your appointment since you may experience blurry vision, eye irritation and sensitivity immediately afterwards. These usually improve within 24 to 48 hours. Most patients can return to work at this time. Dr. Alabata will instruct you to avoid getting water in your eyes and stay away from dusty environments for two weeks after LASIK. 
You will have several follow-up visits to confirm that your corneas are healing properly. Although your vision will improve quickly, your cornea will continue to stabilize for up to six months. After your vision stabilizes, you will be assessed to determine whether you need a new prescription or none at all.
What Results Will I See After LASIK?
Most people see dramatically improved vision after LASIK. Over 90% of Dr. Alabata's patients achieve 20/20 vision. Many will no longer need corrective lenses, and others will need them less. The effects of LASIK surgery are permanent; however, other parts of your eye continue to undergo age-related changes, so most patients will eventually need reading glasses due to the stiffening of the natural lens inside the eye. 
Request a Consultation
We'd love to help you get all the information you need in order to make the best choice for your eyes. Request a consultation today! Our staff is available and happy to answer your every question.
Am I a Good Candidate for LASIK?
Dr. Alabata performs an eye examination to determine whether you are a good candidate for LASIK. Those who are not good candidates for LASIK may be right for another laser vision correction procedure, such as SMILE or PRK. Patients interested in LASIK should meet these requirements:
Over the age of 18
A stable prescription for at least one year
Healthy corneas
No significant eye health problems
LASIK is effective for astigmatism, nearsightedness, or farsightedness, but only within a particular range. Dr. Alabata will review all your options and help you choose the one that will help you achieve the best results.
How Much Does LASIK Cost?
LASIK costs vary according to several factors, including your location and your provider. The average LASIK procedure costs between $2,000 to $3,000 per eye. Alabata Eye Center does provide convenient financing options to make better vision affordable for almost anyone in need. 
Take the Next Step
To schedule your in-person LASIK consultation, call Alabata Eye Center at (850) 331-3937. A referral is not necessary. Thank you for trusting our professional services!