How Long Does It Take To Recover From Cataract Surgery?
Cataracts may cause severe vision problems that may not be solved through prescription lenses. At Alabata Eye Center, we offer different cataract surgery and artificial lens implant options to help patients regain their eyesight and recover quickly and efficiently. 
What are Cataracts?
Cataracts are one of the most common causes of reversible blindness. Cataracts are caused by proteins in the lens of the eye that begin to form clumps as we age. The clumps of proteins lead to blurry vision, increased sensitivity to glare, monocular double vision, and the need for frequent changes in eyeglass prescriptions.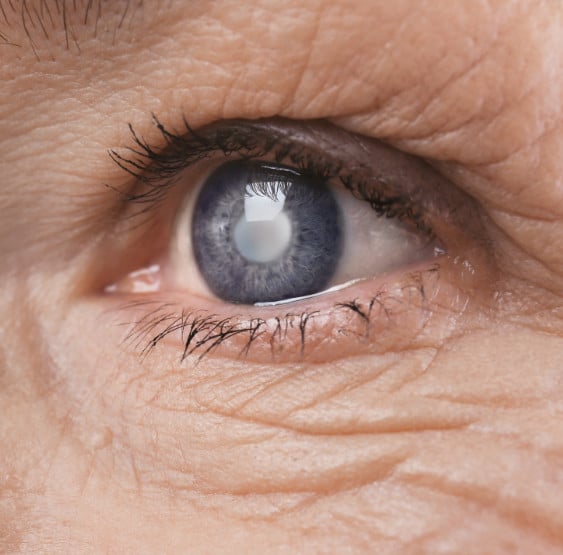 What is Cataract Surgery?
Cataract surgery is the ideal way to treat cataracts. At Alabata Eye Center, we use two main methods of cataract surgery: traditional and laser-assisted.
Traditional cataract surgery is the most common and an effective method. Dr. Alabata manually makes a small incision into your cornea, manually opens the anterior lens capsule to access the cataract, manually breaks apart the cataract and removes it, then inserts an artificial lens implant in its place.. 
Laser-assisted cataract surgery uses highly advanced optical coherence tomography to measure your eye during surgery. After the laser makes a precise incision into the cornea, it then makes a well centered opening into the anterior lens capsule to access the cataract, and then breaks up the cataract into small pieces. Once the small pieces are removed, Dr. Alabata replaces the cataract with an artificial lens implant. Both traditional and laser-assisted surgery heal without the use of stitches.
A procedure called a YAG laser capsulotomy treats secondary cataracts that form after cataract surgery. This represents a natural clouding of the posterior lens capsule behind the artificial lens implant. If you experience cataract symptoms following cataract surgery, this is most likely due to the formation of a secondary cataract. Contact Alabata Eye Center to determine if you need a Yag laser capsulotomy. 
How Long is Recovery from Cataract Surgery?
Blurry eyesight, watery eyes, grittiness, double vision, and a red or bloodshot eye are common immediately following cataract surgery. You will need a ride home from surgery. Most patient's vision recover within a few days. Limitations in activity are from 1 – 2 weeks for optimal results .
During recovery, a protective shield should be worn over the treated eye while asleep for the first week following surgery.
Dr. Alabata will prescribe eye drops to ensure a safe and effective recovery. Most patients will start applying the eyedrops the day before surgery and continue them on a tapered basis after the operation.
It is recommended that you rest your eyes following your surgery for a more comfortable eye the following morning. At Alabata Eye Center, we do not recommend anything in or around your operative eye other than your prescribed medication eye drops for at least 2 weeks.
Request a Consultation
We'd love to help you get all the information you need in order to make the best choice for your eyes. Request a consultation today! Our staff is available and happy to answer your every question.
When Do I See the Results of Cataract Surgery?
While you may experience blurriness during recovery, most patients experience dramatically improved vision within 1 to 3 days after the surgery.
Should I Receive Cataract Surgery?
If you are experiencing increased glare or halos surrounding lights, double vision through one eye, blurry vision not correctable by glasses, difficulty seeing at night, or faded colors, you may be a good candidate for cataract surgery.
During your consultation, Dr. Alabata determines if your cataracts are ready for surgery, discusses your symptoms, goals and expectations, artificial lens implant choices, and recovery.
Take the Next Step
To schedule your in-person cataract surgery consultation, call Alabata Eye Center at (850) 331-3937. A referral is not necessary. Thank you for trusting our professional services!